While most of our projects with BCA Architecture and Design are high-end custom homes, we took a detour to tackle this adaptive re-use project in the heart of the South Slope Brewing District in Asheville, NC. What is now a contemporary pizzeria serving up local ingredients with a focus on sustainability began as just a shell of the original 1920's construction.
This sustainable mission began with construction, where an effort to keep much of the existing 2-story masonry walls and steel bowstring trusses made this project an exercise in thinking outside the box from the start. Through a series of slotted connections, over-sized holes, and hand-tightened bolts, our design team was able to thread the needle in detailing a new steel frame to brace the existing masonry from the inside without imparting new load. Our final design incorporated most of the original bowstring trusses, offering a rustic aesthetic for the diners below. In recognition of our innovative design solutions in overcoming these challenges, the project earned a second-place finish at the 2022 DVASE structural engineering awards.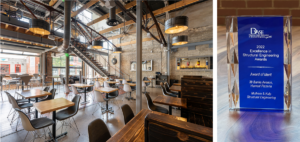 The result was a two-story dining area with mid-height mezzanine, all beneath a partially covered rooftop bar. From the unique history and intriguing finished product to the one-of-a-kind design, this ambitious project was a pleasure to be a part of, no matter which way you slice it.