We have always felt that a work environment built on a foundation of good people, encouragement, dedication, and fun would benefit everyone, including our clients. After all these years, it's still working.

We work hard because we love what we do. We play hard because... well, because it's fun. A golf tournament, a ski trip, go-kart racing: these are just a few of the employee events that M+K sponsors throughout the year.

We have been truly blessed with a healthy business, a great staff, and fantastic clients. It is both our duty and our honor to give back...to help those who are less fortunate.
We make a living by what we get, we make a life by what we give.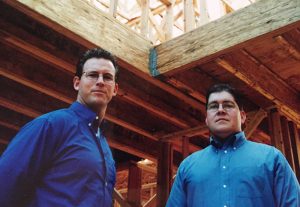 THE EARLY YEARS: Mike and Joe, circa 2000.
Mike Mulhern and Joe Kulp first met while working for the same engineering firm in the late 1990's. Working together daily, it didn't take long to realize they shared a common approach to solving problems. When conversations turned to the challenges of being family men with babies at home, it became apparent that Mike and Joe not only shared common engineering philosophies, but similar values too. A true friendship was born…one of mutual respect and like minds.
While eating lunch one fateful summer day in 2000, Mike revealed that he wanted to start his own firm someday. Joe enthusiastically responded, "Me too!" They both realized that by combining their efforts, their dreams could be realized quickly. Summer vacations were spent renovating their basements into office space, and Mulhern + Kulp officially opened for business in October of that same year. With no customers and newly remortgaged houses to cover start-up costs, they acted in faith and a strong belief in each other.
From the beginning they were confident that their philosophy of value engineering, builder-friendly designs, and good old-fashioned service would promote success. As the company grew, they understood that hiring good people and creating an exceptional workplace culture – one that was built on positivity and treating people right – would be key for continued growth.
Over the years, that philosophy has paid off and Mike and Joe's relationship is stronger than ever.
Along the way, their strengths have continued to both complement each other and the needs of the company. Mike is a creative strategist who is the technical mentor and visionary of M&K University. Joe is an insightful organizer who is the administrative leader and developer of our project management and scheduling system. Both are involved in driving our vision to be industry leaders and advancement of our award-winning culture – all while leading the project management team and ensuring each employee is positioned for success.
LEAD…
the residential structural engineering industry by providing innovative, value engineered designs without sacrificing quality.
DELIVER…
prompt and practical solutions that promote long-term business relationships and yield enthusiastic referrals.
CREATE…
an award-winning culture with opportunities to maximize individual potential and establish life-long careers.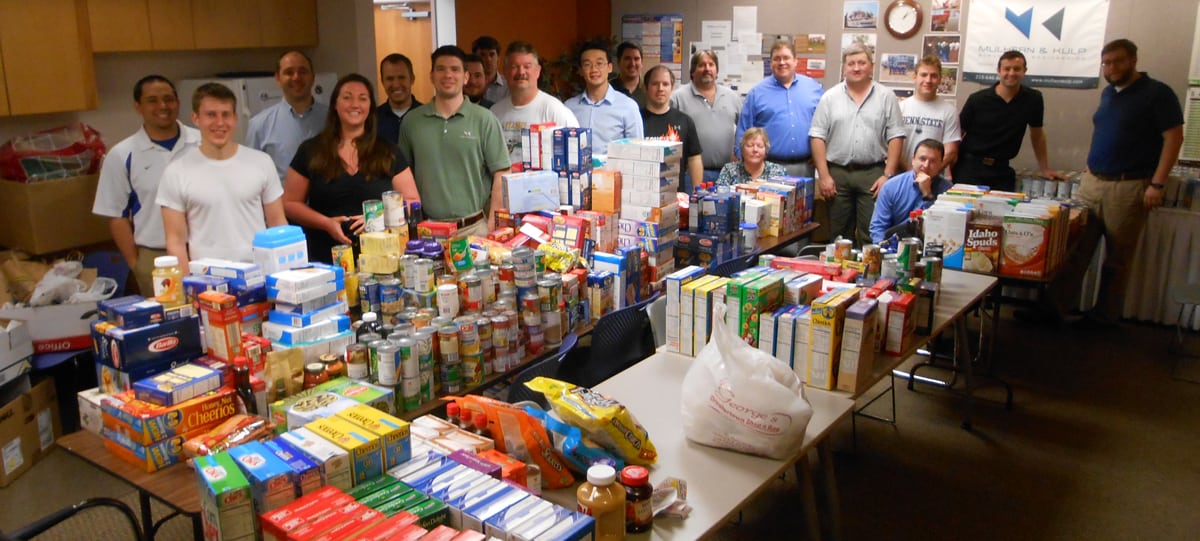 We have been truly blessed with a healthy business, a great staff, and fantastic clients. It is both our duty and our honor to give back, to help those who are less fortunate. We have established long term relationships with the following charities …
TRAVIS MANION FOUNDATION Shortly after the death of 1st Lt. Travis Manion in Iraq on Apr. 29, 2007, the fallen Marine's mother, Janet Manion, founded the Travis Manion Foundation with a goal of honoring the fallen by challenging the living. Until her death on Apr. 24, 2012, Janet worked tirelessly to help families of other fallen service members, veterans, and active duty troops.

HOPE INTERNATIONAL At HOPE, we believe that work is God's primary plan for provision. We've found that most who live in poverty are eager to generate income and employ their God-given skills to add value to their communities. Unemployment robs individuals of that opportunity, but Christ-centered microenterprise development restores it by helping men and women create jobs for themselves and others in their community.

SUNDAY BREAKFAST RESCUE MISSION Sunday Breakfast Rescue Mission offers a variety of programs and services to accomplish our mission of providing for the practical and spiritual needs of hungry, homeless and hurting individuals in the Philadelphia area.

CITY TEAM (Philadelphia) Cityteam serves those in desperate need throughout the Delaware Valley. Dedicated and caring staff and volunteers reach out to those in need of a hot meal, a safe shelter, and decent clothing. They also offer a recovery program for those men that are on the road of destruction from drugs and alcohol.

AMIGOS DE JESUS Amigos de Jesús accepts abandoned, abused and impoverished children with the hope of respecting and enhancing their spiritual, physical, emotional, social and intellectual growth within their country of origin. They aspire toward self-sustainability for both the orphanage and the children who graduate.
MATTIE N. DIXON COMMUNITY CUPBOARD, INC. The Mattie N. Dixon Community Cupboard was founded by Mattie N. Dixon, a long time resident of Ambler and a true visionary. In 1973, in response to learning that people in her community were going hungry, she started serving families out of her basement. In 2004 the Community Cupboard was able to relocate to their current address, to further help the community and people in need.